NASA Field Centers

Corporate Office
Information Technology
Atmospheric Flight Operations
Turbomachinery
Scientific Research
Sophisticated Software Systems
Deep Space Systems
Human Operations in Space
Launch and Cargo Processing Systems
Structures and Materials
Space Propulsion
Shared Federal Facility
Propulsion Testing Systems
Suborbital Research Programs
Testing and Evaluating Hazardous Materials, Components, and Rocket Propulsion Systems.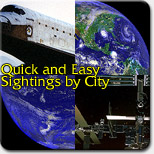 Want to know when a spacecraft will be flying over your city?
Check out a list of quick and easy sightings by city.


NASA flight dynamics officer introduces SkyWatch (video):


Go to my other pages below ?
[ Home ] [ Links Page ] [ Shuttle Photos 1 ] [ Space Station & Photos ] [ NASA ] [ Planet's Info. ]